Our Services
We provide targeted treatment to keep your office, commercial building or home free of ants, roaches, bedbugs, flying insects and rodents.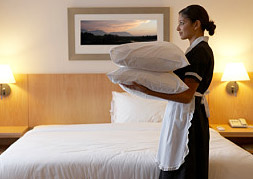 We'll start with an inspection of your residential or commercial property, recommend targeted and effective treatments, and then treat any areas that are harboring pests or places they are attracted to.
For all of our customers, we provide treatments with federally–approved products that are safe to use in your home and around children and pets. Our workforce is expertly trained and uses the latest pest control technology for optimal results.
Our Pest Management Services include Pest Control Services for:
Crawling and Flying Insects
Elimination of Resident Rodents & Subsequent Control
Fly Control
Bed Bug Elimination
OUR 4-STEP FLY Treatment & CONTROL SERVICE: is very popular with our customers, this treatment aims at the root cause of filth flies by eliminating the breeding source:
Materials to kill fly eggs and larvae are used, as well as materials to break the reproduction cycle and stopping young flies from becoming adults.
Aerosol and other products to control adult flies are used, and residual treatment materials are also used for ongoing protection. Both Labor & Materials are included in our fee.
We offer three month as well as year round treatment service. Please contact us for more details.